Ludmila Korol has been living in Ireland for nearly 20 years. If you've seen any of her female figurative paintings you'll recognise it immediately – the doll like features, the big eyes.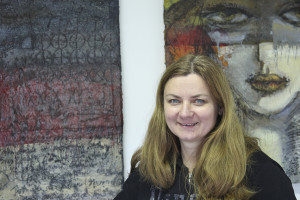 How Ludmila came to live in Ireland is a romantic story – one of chance. She is from Ukraine. She grew up in the countryside near the Polish border. The then USSR had a policy of identifying potential in sport and arts and developing it. When she was nine her artistic talent was spotted and she was enrolled in art school which meant three hours of intense training three times a week. This developed in her an intensity of study and a focus on being a high achiever.
She went on to attend the Kiev Academy of Fine Art where she did a six year degree course in Art and Architecture.  After the break up of the USSR, at the age of 27 she moved to Prague. Alongside Armenian artist Armen Eloyan she would sell watercolours and figurative paintings on Karluv most (Charles Bridge).
In parallel to this, Paul Howden, a New Zealander with Irish roots had moved to Ireland and was running an art gallery in Kilkenny.  A friend brought him paintings from Prague. Paul fell in love with the paintings and arranged to bring the friend (Paul paid) to meet Ludmila in Prague and acquire some more.  Paul met Ludmila on her birthday. A love story developed and in 1996 she moved to Ireland.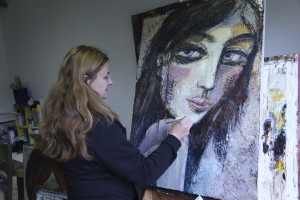 The Ukraine still influences (though not directly) her work. There is an intensity there, a real strength of feeling. This is particularly obvious when she talks about her homeland.
She has her studio in Inchicore, close to the city where she welcomes studio visits.
Paul prints and markets her work.
For more information on Ludmila and to see (or buy) her work see www.ludmilakorol.com
Liam Madden, Irish Art Blog.