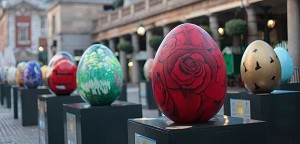 Easter 2013 will see the biggest & most interactive public art display Ireland has ever seen.  For 40 days and 40 nights a collection of 100 exquisite fiberglass egg sculptures will overtake the streets of Dublin and other locations around Dublin and together become the country's biggest ever egg hunt. Displayed in iconic outdoor locations and high profile venues, each egg will become a treasure to be discovered by the public.
100 leading artists, fashion designers, architects and jewellers, are coming together to create this collection of unique eggs, each one standing at 2 ½ foot. Already on board are Guggi, Orla De Bri, Graham Knuttel, John Rocha, Phelim Egan, Rasher, Deborah Donnelly and some Irish celebrities too.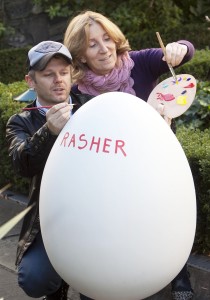 The hunt will culminate with two auctions, each one an event in itself, raising funds for The Jack & Jill Children's Foundation. The money raised will be used to provide nursing care and support for children with severe neurological development issues, as well as offering some respite to the parents and families.
What it means for you the Artist
You will be given a 2.5 ft. 3–dimensional fiberglass egg, which will become one of 100 unique creations on public display. For 6 weeks your egg will be a part of a dynamic statement that will culminate in two auctions, each one an event in itself, raising funds for The Jack and Jill Children's Foundation.
In  return  for  giving  your  valuable  time  and  talent,  you  can  expect:
10% commission of Egg auction price achieved
Exposure in Nationwide Press for your creation and profile
Your name prominently displayed on the plinth, websites, and associated material and your personal biog in the Artist's manual .
A public location for your creation for the duration of the project
A  unique  canvas  and  platform  for  your  work
An  opportunity  to  make  a  significant  contribution to  writing the  history  of  this  generation,  and  improving  the  story  of  the next
Key Dates:
November (mid) Big Egg Hunt Press Pre-Launch
January (mid) DEADLINE: Completion of Egg Sculptures with varnish applied
January (mid) DEADLINE: Artist Biography provided by artists
January (mid) Official Photographs of the eggs
February 12th Pancake Tuesday – Launch event
February 12th Eggs take to the streets. Let the hunt begin!
March  Public viewing week (eggs nestle together in one location)
March  Online auction. Bidding opens online
March 22nd GRAND AUCTION –  A Black Tie Event where the top 20 eggs will be auctioned at a Gala Dinner.
March 31st Online auction close
If you are interested in being involved please email Hannah bigegghunt@gmail.com