Today (Thursday 29th November 2012) saw the opening of the first new public art gallery in Ireland in over two years.
The new contemporary art gallery was officially opened in Athlone by Jimmy Deenihan T.D., Minister for Arts, Heritage and the Gaeltacht. Luan Gallery is the first purpose-built, municipal visual art gallery located in the midlands. The aim of the new space, run by Athlone Art and Heritage Ltd., is to promote a dynamic contemporary visual art programme of both established and emerging artists.
A total of €3.4 million was invested in the development of the gallery by the Border Midland and Western Regional Assembly, the Department of Arts, Heritage and the Gaeltacht and Athlone Town Council.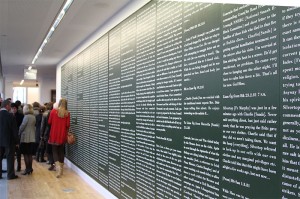 The 575 square metre gallery was designed by Keith Williams Architects who also designed the Wexford Opera House. The new dedicated art space is located on a spectacular site overlooking the River Shannon, adjacent to the town's historic bridge, Athlone Castle and the Catholic Church of St. Peter and St. Paul. The scheme adapts the town's historic 1897 Father Mathew Hall into a new gallery, adds a new wing with state-of-the-art audio visual capabilities and a riverfront gallery space overlooking the Shannon.
The Luan Gallery 's first exhibition features work of acclaimed Irish and International artists from the Irish Museum of Modern Art's (IMMA) permanent collection.
Entry to the exhibition is free.