Last  month I met with artist Jerry Cahir at his home and studio in Roscrea, Co. Tipperary. We had a chat about art, spirituality, life.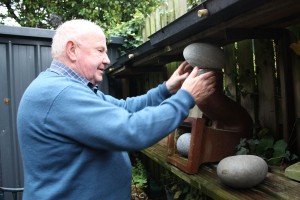 Jerry came to art late in life.  He had been a bank manager with AIB until he was forced to retire through ill health.  A while after, he took a course in carving.  He had always been good with his hands .  So his art career was born.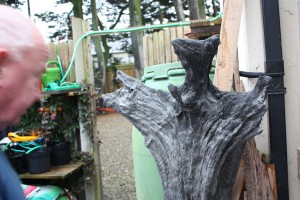 Jerry has a great sense of spirituality, of God which comes through in his art.  He loves the Burren and in particular the Celtic monuments which have influenced his work.  Other such influences would be Newgrange and the standing stones in Cill Rialaig where he has been in residence.
Although his first love is sculpture, Jerry also is an avid painter.  His passion is for abstract pieces.  He believes you have to let go of the ego and "trust where it comes from".  Again the theme of God comes through.  The following quote from John O'Donoghue hints at this:
"All you can ever achieve is a sense of your soul. You gain little glimpses of its light, colors, and contours. You feel the inspiration of its possibilities and the wonder of its mysteries."?
Anam Cara: A Book of Celtic Wisdom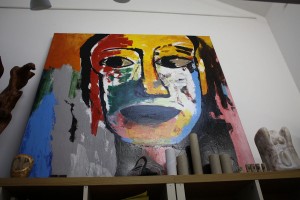 Jerry loves people.  You can see it in his eyes.  He believes in the inherent goodness of people.  A native of Ennis he has lived in Roscrea for 26 years. He seems to know everyone. He loves to be involved in the community.  In the time I was there he had a visitor discussing publicity for an art event he was helping to organise.
When I visited, Jerry was preparing for an exhibition.  I always find it fascinating to see how stones, wood, paint, canvas can take on a form that comes from the mind.  I look forward to seeing the results.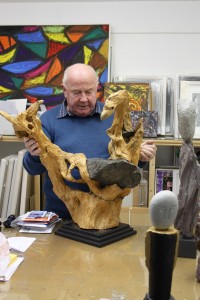 Jerry welcomes visitors to his studio but by appointment only.
For further information on Jerry Cahir and his art have a look at his website: www.jerrycahirart.com