The two winners of the Walkers International Law Firm Dublin Secondary Schools Art Competition have been announced at a prize giving ceremony in Walkers Dublin offices, based in Sir John Rogerson's Quay.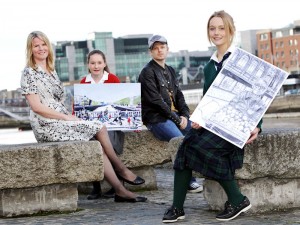 Pictured left to right were Managing Partner Walkers Law Firm, Vicki Hazelden, Sarah Louise Donohoe (14) from Dominican College in Sion Hill, Blackrock who won the top prize in the 'Up to Junior Cert' category, judge Rasher, one of Ireland's best known contemporary artists and Sophie Ryan (17) from Santa Sabina College in Sutton who claimed top spot in the 'Up to Leaving Cert' section.
The competition saw a strong number of entries all hoping to claim generous cash prizes for themselves and their schools worth €14,000.  The art competition, part of the Walkers Corporate and Social Responsibility (CSR) programme, was open to secondary schools across Dublin city and county. All entrants had to work to the theme 'A Day in the Life of Dublin,'. Walkers, which opened its Dublin office in September 2010, is a global law firm with nine offices worldwide and is headquartered in the Cayman Islands.  The winning art work will hang in Walker's offices.