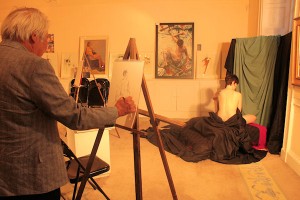 Ever wanted to have a go at life drawing?  Here's your chance.  Powerscourt Gallery will be holding informal life drawing sessions on a fortnightly basis from October 6th.
This is a drop in class and will not be conducted by a tutor.  The aim is to explore the craft yourself and discuss afterwards with fellow classmates. Live model & tunes are supplied on the night.
This is the perfect opportunity to draw one of the most enduring themes in the visual arts.  No pressure just fun and art at the Powerscourt Gallery.
B.Y.O. Sketchpad/Pencils.
The next session is on Thursday October 20th, 6pm -7.15pm.  Charge is 8 euro for the session.
For more details see Powerscourt Gallery website.