Children's Shoe Specialists Ricosta have combined Dublin's most famous Children's Shoe Shop (Cripps of Terenure) and Leading Children's Art School (Artzone) to run a highly innovative children's art & design competition.
Children from Artzone Classes across Dublin were challenged to design a shoe of the future. After a briefing from their Artzone teacher the students were set free to work up their individual designs. Girls and Boys alike
produced some stunning finished pieces with themes ranging from a 'Slipper suitable for a Princess' to 'Fortresses in the Mist'.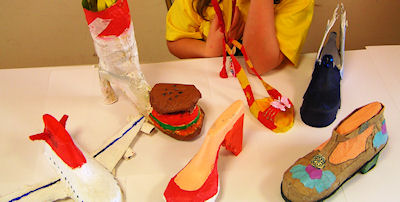 "We were simply blown away with the sheer brilliance of the designs and finished shoes." Said Olga Cripps. "We will be proud to display as many entries as possible in the main shop window and throughout the store." The winning entries will be on display in Cripps store in Terenure for the next two weeks.
Art Director, Gillian Blaney Shorte said "Artzone were thrilled to be part of such a challenging competition. The children loved the concept and really produced some outstanding designs"