The first of five tribute shows for the late and great Richard Harris by Clare artist Thomas Delohery was officially opened on the 1st of October, 2006 by his three sons, Jamie, Jared, and Damien Harris. Richard Harris's younger brother Bill was also in attendance.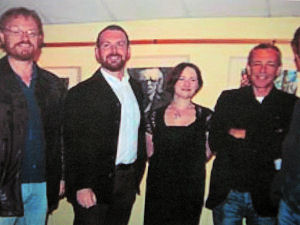 Jared Harris, Thomas Delohery, Caoimhe Reidy, Damien Harris
The opening was packed out and a huge success. Jamie Harris said on the night, "Tom, you really captured so many of my Dad's different moods"; and Jared Harris thanked me so much for,' kick-starting everthing off;' all the recent tributes in honour of his Dad.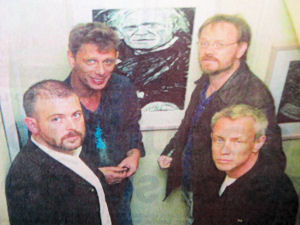 Thomas Delohery, Jamie Harris, Jared Harris, Damien Harris
The Harris family were very gracious on the night and have been hugely supportive behind the scenes for nearly 2 years now. I couldn't thank them enough. Both Jared, Jamie, Damien and Bill Harris purchased pieces. Jared Harris recently sent me an e-mail saying, "I love my picture! It looks awesome."