Limerick artist Kate Hennessy was invited to show her work in Koblenz for
the St. Patrick's Day Festival 2007 The show was held in two venues in the
old city and was opened by the Kulturischer Sprecher for the City Council,
Mr. Christian Altmaier.
He said he came not only as a politician but as an art lover also. He mentioned that this is the 50th anniversary of the signing of the Treaty of Rome and that cultural exchange was of great important for the peoples of Europe. Herr Altmaier also mentioned that he had never been to Ireland, but now wanted to go when he saw the beautiful paintings. Kate presented him with a painting of Inch Strand, Co. Kerry.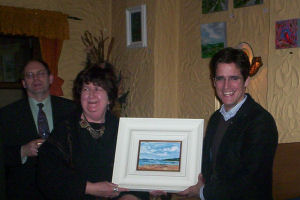 Several friends came to Germany for the occasion including poet and author
Teri Murray who read from her book 'Poems From the Exclusion Zone".
Showing at 7 Burgstrasse and 2 Paradies off Muentzplatz. For further
information please phone Jorg Schroder at +49 261 9835092