I recently visited Adrian+Shane in their studio North of Dublin. Talking to them you get the feeling that you're talking to one person – they dovetail so well together. There's a yin and yang about them. Even though they're quite different physically and in personality, they seem as one artist. I asked about the name. "Shane and Adrian" didn't sound right. They played with other names but Adrian+Shane it is. This has a duality about it. Maybe they should have come up with something like Shadrian.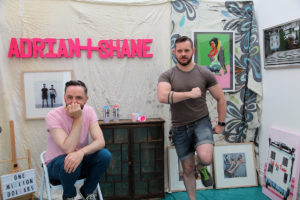 Although they grew up in the same place and knew each other to see, the duo only met in Christmas 1997. They started working together in 1998. The collaboration happened almost by accident. Shane was sketching and as he put a sketch down, Adrian would take it and continue to work on it. 18 years later they still seem to have the same collaborative working arrangement. All of their output is a joint effort. Nothing is 100% Adrian or 100% Shane.
A general description of their work would be "pop art". They don't take themselves too seriously. There's an element of fun but they do take their art seriously. They work in a variety of media – painting, screen printing, photographs, stencilling, video, installation. Their work has also been output to t-shirts, stickers, cut-out dolls and swimming trunks.
Their first exhibition "Sensation by Deprivation" in Droichead Arts Centre was in 1999. Since then they have had many exhibitions in Ireland and abroad (from London to LA to Sidney) including one for the Amy Winehouse Foundation. In fact their work is more popular abroad where 99% of sales are generated. The art is particularly sought in Mexico and South America.
Adrian+Shane seem to have been doing selfies before the rest of the world. A lot of their output features their likenesses. Their self portrait photographs are particularly intriguing. These images are captured using a camera and a remote control. A popular game among their friend is to spot who's holding the remote. Their iconic brand of Adrian standing and Shane marching was created in 2008. This was done using a timer. Adrian got Shane to start marching, he set up the camera and then ran back to stand in place.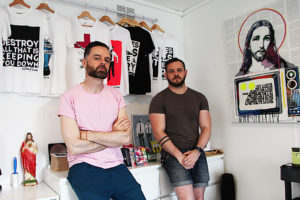 Their next exhibition is an installation in Temple Bar starting Monday 19th September. Entitled 'ZOO', it will run for 4 days, 7 hours a day (leaving only for comfort breaks) in the window of Filmbase. They will produce art in a virtual studio. The installation will be streamed live on YouTube as well as Facebook Live. Look out for special guests who will contribute their outlines to a 2m x 6m artwork.
They've experienced the highs (like in 2008 when there were queues to buy their work) and the lows of the recession but now Adrian+Shane have been working full time as artists for the last few years. I look forward to seeing what's next.
For more information on Adrian+Shane have a look at their website www.adrianandshane.com.
Liam Madden,
Irish Art News,
September 2016.