Siobhán Bastable is back running an art gallery after a ten year hiatus thanks to Gabriel Cooney of the Grapevine. He was keen to have an art gallery on the mezzanine level of the newly converted wine shop and wine bar.
Siobhán didn't start out with a career in art. She worked in a bank for 13 years. In 1998 she did a diploma in fine arts. This was followed by studying the history of art in Trinity College Dublin.
In 2001 she founded the William Frank Gallery (named after her father) in Monkstown which she ran until 2006.
After this she continued to run art exhibitions in leased venues e.g. The Dalkey Heritage Centre. These would usually be two or four week shows. She also ran cultural trips to France, Spain, Italy etc. A dozen or so patrons would be accompanied by an expert in the art of the locality.
Siobhán is very definite on her vision of the new gallery – "new contemporary" painting, sculpture, ceramics, glass, photography. The relationship with her artists is key. She will only deal directly with the artist – no agents. She has visited all the artists in their studios. The gallery commission is a competitive 40%.
She talks about the triangle of artist, gallery, customer. Knowing the artists personally helps her talk to customers about the artists and their work. She loves what she does – "why else would you do it?". Siobhán is herself an artist (and silversmith).
Siobhán is keen to make the gallery accessible to the public. She has already started Saturday afternoon workshops where artists can show and talk about their work. These are proving very popular.
Starting in January 2017 there will be monthly guest expert lectures on a Monday or Tuesday evening. These will be accompanied by wine from the region under discussion. (Having a wine shop downstairs is handy.) Numbers will be limited to about 25.
This October will see the opening of the exhibition "Performance" with 7 artists.
2017 will also be a busy time in  The Gallery for exhibitions. Five are planned: two solo exhibitions with Peter Pearson & John Brobbel, a two person show and two group exhibitions.
Siobhán (and husband of 30 years Peter) are also passionate about music. June each year will see them squelching through the fields in Glastonbury. Siobhán is also a ballet enthusiast.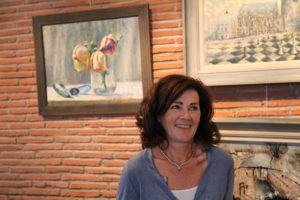 For more information on The Gallery see: thegallerydalkey.com.
Liam Madden,
Irish Art News,
August 2016.