're:View' has opened at Town Hall Gallery Macroom.  It is a retrospective exhibition of the last ten years of textile art and design showcasing the talent and diversity of fine art textile practitioners working in contemporary Ireland.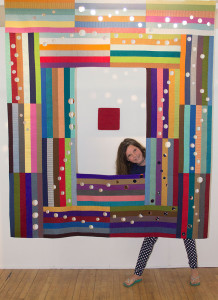 This group exhibition presents the work of seventeen artists including  many National Crafts Competition winners such as Mary Palmer, quilter and Anne Kiely printer.  All artists in the exhibition are members of the Cork Textiles Network.
The work on display shows many skillful techniques used in fine art textiles including print, stitch, machine embroidery, tapestry weaving and felting.
The concepts that inspire the artists to work in their chosen field are well referenced throughout the show. Topics such as the plight of Priory Hall residents, remembering home left behind, and cloud computing are some of the many and varied inspirations for the work on display.
A broader view of the work of the network and its members may be seen in a set of professional images which are viewable on a video loop in a purpose built mini-cinema within the gallery space.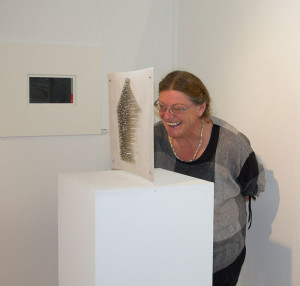 The  exhibition, free to the public, is currently on show until Saturday 23rd August 2014.
The opening times are  from 10.30am to 5.30pm, Tuesday to Saturday.