Over the last month work by The NorthWest Artists Group was on show at Markree Castle in Collooney, Co. Sligo. When the exhibition was over and the paintings taken down last Sunday, it was discovered that a painting by Marina Hamilton was missing.
The group presumed it was sold and only found out later this week that it was stolen and probably has been missing since 8 November 2009.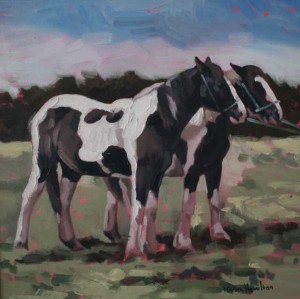 The painting is oil on canvas, measures approx. 12 x 12 inches and is framed in a box frame with a grey slip and thick black frame.  If anyone has any information as to the whereabouts of this painting please contact Marina Hamilton on: T: 086 8216335.
The incident was reported to the Guards at Collooney, co. Sligo and is now been investigated.
It has since been discovered that a Stephen Bennett painting was stolen from Jackson's hotel, Ballybofey a short time ago and possibly a second painting which is unaccounted for.
In light of these thefts, Hotels, galleries, exhibiting venues, and auction houses are advised to be extra vigilant regarding security on their premises.