Chasing Butterflies – A la chasse aux papillons a new body of works by Nell
Collins recently opened at the Alliance Française Gallery, Cork. A large
gathering from the artistic world in Cork as well as admirers and fans of
Nell's work turned out in huge numbers for the opening launch. Large part of
work on show was painted in the romantic medieval Dordoygne region.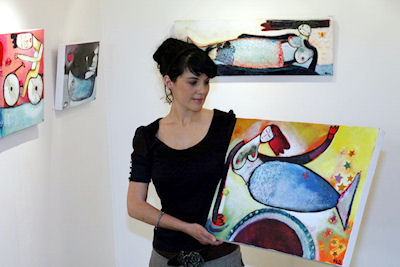 Nell Collins, artist at the opening of her exhibition
Well known Cork artist Kevin Sanquest officially opened the exhibition. Nora
Callanan, President and Hélène Duquin, Director of Alliance welcomed guests,
who included Nell's partner Yvan, their two daughters Florentine and Ely –
all just returned from Paris to live in Cork, Prof.Grace Neville, Alicia St
Leger, researcher, Emily Callanan, Rushbrooke, Pierre Pichon, Premanon
France, Vytene Laucyte, Cultural Coordinator, Monica O'Mahony, La Gallerie,
Declan Hassett, writer, Dr Liam O'Connell, Katie and Don Cullinane,
Monkstown, Ludovic Fagette, Science Po Paris.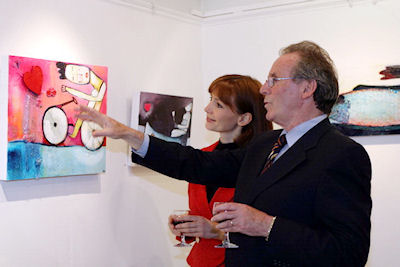 Hélène Duquin, Director of Alliance Francaise and Kevin Sanquest, artist
and marketing director Progressive News and Media