On Tuesday, September 18th, from 6-8pm, at the Loft Gallery, Daragh Muldowney launched 'Sand & Ice', a complete new range of works that have been created in 2007.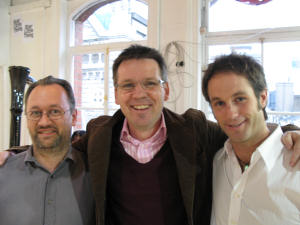 Liam Madden, Derek Mooney and Daragh Muldowney at the 'Sand & Ice' exhibition.
For his latest work Daragh has focused on sand from the Western Sahara in Morocco and ice from the glaciers in Iceland. This exhibition will contains over 20 large format pieces.
With a Berber guide and a camel, Daragh walked through the sand dunes for 2 weeks finding this space to connect with nature and the rhythm of the desert, before driving his campervan to Iceland, to walk on Vatnajokull, Icelands largest icecap.
The exhibition is on for 3 days only.