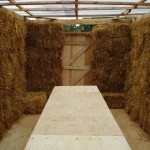 Hedge School 06 is a public art project facilitated by artist and educator Glenn Loughran. Taking place in Leighlinbridge, County Carlow, Ireland from 24th of August to the 7th of October 2006, the project's starting point is collaborative building event – the construction of a temporary school building from straw bales, built over four days in a green-field site in the centre of the village by the artist and local volunteers.
This space then facilitates a six week education exchange between the artist and a group of local young people. The project culminates on the 7th of October in an exhibition of work produced during this period, alongside documentation of the building process. Progress can be followed online on the project's website: www.hedgeschoolproject.com.
Hedge School 06 is funded by Carlow County Council's Per Cent for the Art Scheme and commissioned through Visualise Carlow. The project is curated by Ciarán Walsh.