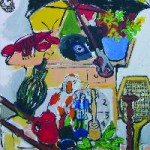 Renowned artist, Elizabeth Cope is exhibiting new art at Bold Art Gallery this week. Bold Art Gallery played host to Elizabeth Cope's successful Solo Exhibition in 2005 and regularly exhibits her art work at the gallery.
Elizabeth Cope, best known as a painter of bright, bold colourful pictures. She paints spontaneous, spirited still lives, domestic interiors, animals, portraits, fleshy nudes and gardens. She responds with a painter's eye to a new environment, an eye that is hungry for detail using mainly oils on board and canvas.
Cope's maturity shines through her art with the play of colour and texture adding a new sense of life to the widely acclaimed artist's work. She has an enviable and lengthy portfolio with exhibitions both in Ireland and abroad and her paintings are held in a number of public and private collections. The established artist is currently studying an MA in Fine Art in London.
To view or buy Elizabeth Cope's latest art, visit our website at www.boldartgallery.com or contact us at Tel: 091 539900 or email: info@boldartgallery.com