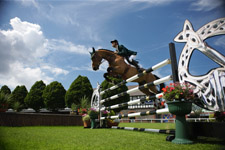 The Royal Dublin Society Equestrian Committee and Committee of Arts have come together to launch an open call for submissions for the design of a feature jump for the 2010 Dublin Horse Show.  This jump may be featured in the RDS Main Arena during International competitions such as the Nations' Cup for the Aga Khan trophy, International Grand Prix and various other International competitions.  The winning design will also receive a prize of €500 and a feature in the RDS International Programme for the 2010 Dublin Horse Show.
This is a unique opportunity for artists and craft people in Ireland to showcase their designs and skills at one of Ireland's biggest sporting and cultural events.  The feature jump should incorporate some aspect of Irish life, culture, landscape or other related theme.
A full brief is available online at www.rds.ie/arts or by contacting the Arts Department at 01 240 7255 or email arts@rds.ie.