For Irish Portrait Artist and tutor Alan Keane (65) the restrictions of lockdown may have kept him behind closed doors but they also were the keys to open up an exciting new adventure into the world of media and presentation.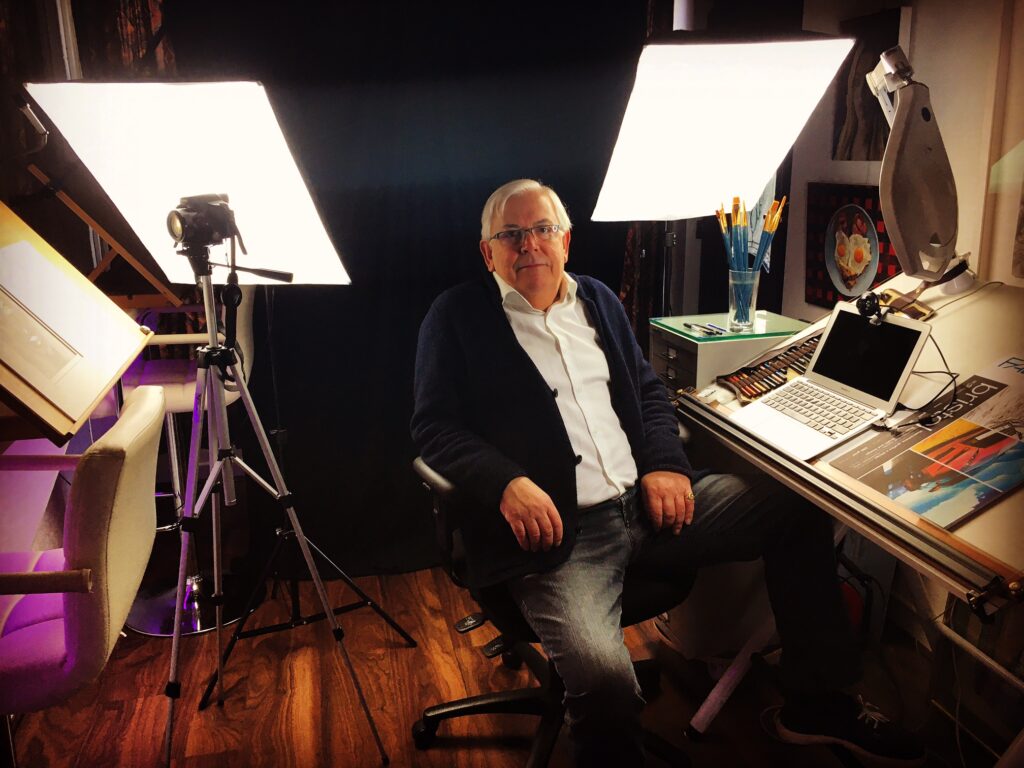 "Just when it seemed the world was closing in especially on older citizens like myself" says Alan, "the lockdown handed me an opportunity which evolved out of necccessity, to connect people, painters, actors, poets, musicians, writers, art lovers and hobbyists of all kinds and from all over the world."
When lockdown#1 began, Alan like many others sought to make their skills or knowledge freely available online for others in an effort to keep their spirits up and to have a scheduled activity on a Saturday morning to look forward to.
"On the Saturday morning of the first lockdown, I was due to have 6 students at my Studio" Alan recalls. "But instead of cancelling, I urged them and their friends and families to tune in for free on Facebook and learn how to draw from home."
Twelve consecutive Saturdays later, the numbers for Alan's Facebook drawing classes were continuing to grow but the course had come to a natural conclusion – coinciding with a relaxation of the lockdown.' But instead of a desire to return to normal Saturday morning activities, the group expressed a desire to continue.
"They had got to know each other and some had even formed friendships out of their common interest." Says Alan. "Their Saturday morning drawing class had become more than a class. It was like a visit to the well – a weekly ritual where likeminded knowledge-thirsty individuals could meet and filling up on that most primal of human needs – making connections, sharing their knowledge and appreciating each others work."
Following an instinct Alan came up with the idea of bringing his group on virtual tours, visiting the studios of other artists at home and abroad, learning about them, their practice, their techniques and inspirations. "I wanted to see how other artists could add to the store of learning I'd already shared with my students and followers." He says.
In line with the understanding that when people are passionate about something they seek out knowledge, inspiration and most especially connection with others, The Artist's Well – the gathering place – was born. It's name reflecting the raison d'etre of the series.
"It was like a natural evolution and everything began to fall into place and to be honest, at the beginning of 2020, I never in my wildest dreams thought that I would be learning how to set up Facebook 'lives', Zoom calls, email lists, YouTube channels, cold calling renowned artists, gallerists and performers." Alan says it was a roller-coaster of learning all falling into place like building bricks as though The Artist's Well was an idea with a life of its own determined to take form.
It was important that viewers could interact with the guest artists, so Alan in the summer of 2020 he moved from Facebook Live to Zoom to facilitate face to face questions. Now more than 43 episodes later, The Artist's Well has become "a weekly source of artistic inspiration, encouragement and contact making" according to one viewer.
"I was conscious that whilst the predominant focus would be on visual artists, its remit should embrace anyone in or connected with The Arts." Says Alan. "So then it seemed like the right next step to include features of poets, actors, gallerists, photographers – even an Opera singer – in addition to the list of a large number of artist all ages and genders."
For Alan, the thing that shone out more than anything else was people wanted to know more about the human element of the making of an artist. "We want to know the things we have in common, our taste in music, our interests etc. much more than what our differences are." He says and feeling that what's possible for one is possible for all. My focus is on what has moulded the artist's life, as much as it is their work and I find that Artists are generous in sharing the things they've learned, tips, solutions to problems etc along the way – even down to what music they listen to while engaging in their art!"
The overall message is that what's possible for one, is possible for all Alan says. "And I'm the living example of that. This time last year I thought I'd have to content myself with a bit of gardening and a good box set on the telly." He says. "But you have to keep doing what you love and look outside of yourself. Be prepared to share what you have and what you know because that's when opportunities and new ideas present themselves. Who know what adventure will come out of that."
Viewers of The Artist's Well Saturday live programme have grown from a few dozen to the maximum of 100 allowed on Zoom, so it has people logging in from America, Canada, Europe, India and Australia a half an hour before hand to ensure a place. All episodes are archived on The Artist's Well YouTube Channel (see link below) which now gets significantly more views after the event.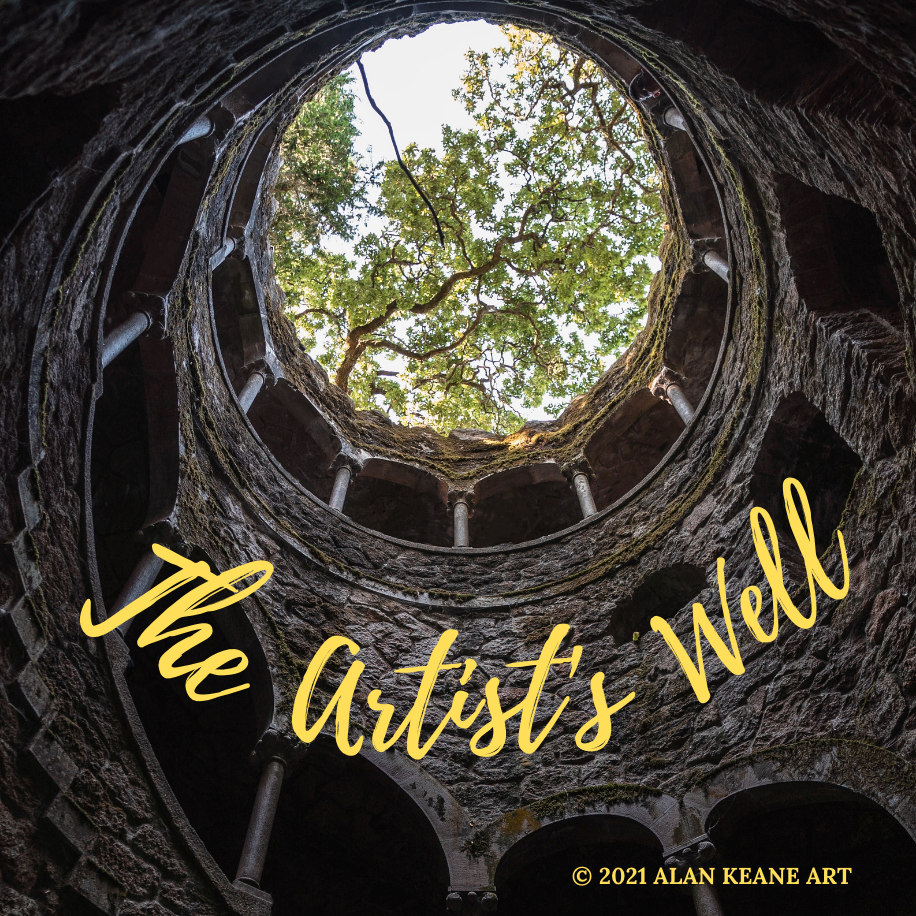 For links to The Artist's Well, contact alan@aka.ie www.aka.ie
For further information phone Alan Keane 086 2552418
To view the list of previous interviews, click here.