Leading artists from across Europe are Kilkenny-bound this weekend for a visit to culture-steeped Callan for an action-packed, day-long programme which includes a presentation on the community-focused Bring Your Own Chair project.
The Collaborative Arts Partnership Programme (CAPP) visit is a major coup for Kilkenny and sees the international group hear about the Nimble Spaces Housing Project, tour the local workshouse, visit the offices of the Callan Workhouse Union and more.
The tour is supported by a European Co-operation Project award under the Creative Europe Culture Sub-Programme, visual artist, Michelle Browne, explained.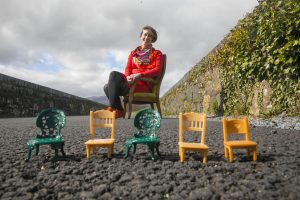 "This international gathering in Callan will be attended by many leading arts workers/practitioners from Europe. The Town Visit in Callan as part of the international conference Practice and Power and it will mark the culmination of a three-year European Funded project led by the national organization, Create," she said.
Included in the group workers are Madrid based arts organisation Hablarenarte and sociologist and researcher Dr Alastair Roy, University of Central Lancashire, Reader in Psychosocial Research and Co-Director of the Psychosocial Research Unit.
The Workhouse Union in Callan have been associated members of the CAPP network and the team there has benefited greatly from the association and support of CAPP, according to its spokesperson, Eilis Lavelle.
"Support through CAPP has allowed us to explore youth-led design projects and over the past three years with Todo Por La Praxis, a Spanish architecture collective. Together, we've worked on a number of projects engaging young people as active participants and agents in designing our townscapes."
Among the youth-led projects are projects with Callan Fóroige Youth Group, St. Brigids College and Callan CBS. They've also held design workshop with Kilkenny skaters on the new Youth and Skate park in the Abbey Quater initiated by Kilkenny Sports and Recreation Partnership and Kilkenny County Council.
The Callan visit on Saturday is part of the wider collaborative Arts Partnership (CAPP) Practice and Power event in Dublin which runs from June 20 to 23.
The major transnational event explores areas such as negotiation, exchange and representation in contemporary collaborative arts practice.