James Earley says: "It's been a life goal to work with stained glass". Interestingly, an ancestor of his, Thomas Earley, co-founded Earley & Company in 1864 producing stained glass. They were one of the most significant businesses working in stained glass and marble throughout Ireland and the UK for almost a century and a half. Stained glass seems to have been a key influence in James's artistic career.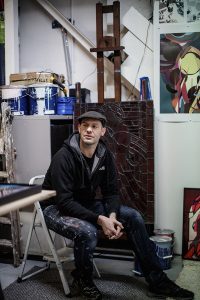 Since graduating from NCAD in 2003, with a BA in Visual Communications, James has been an integral part of the Irish graffiti and street art movement. In 2014, James painted Blooms Hotel. The project took one year to complete and is the largest public artwork in Ireland to date. Last year An Post honoured him with a stamp using one of his works.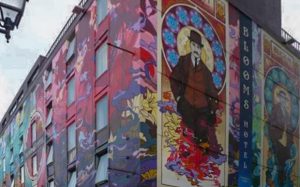 This month James is having his debut solo exhibition "Things Fall Apart". The works in the exhibition are a mixture of old and new materials and processes, embracing technology and fusing it with traditional disciplines such as stained glass, silkscreen printing and painting.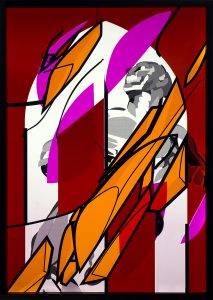 "Things Fall Apart" is on  Friday May 25th – Sunday June 3rd, 2018 in Dollard House, 5 Wellington Quay, Dublin 2. The exhibition will open daily from noon to 7pm.
For more information on James and his work see www.jamese.ie.