Last Wednesday saw the opening in MART  of an exhibition of two video works by internationally respected Berlin based artists Nina Fischer and Maroan el Sani.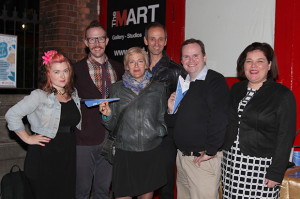 Narita Field Trip, looks at how two Tokyo teenagers deal with the experience of encountering a farming community that is fighting against the expansion of Narita airport, a development that threatens to swallow and destroy their farms, homes, livelihood and community. (HD, colour, stereo, 30 min. 2010)
Spelling Dystopia, is a film that explores a community's memory of the abandoned coal mining centre, Hashima Island, once the most densely populated place on earth, now known as the backdrop for teen horror movie Battle Royale and as a home for Bond villains. (HD,16:9, 2 channel video installation, colour, stereo, 17:25 min)
The exhibition is Curated by Barry Kehoe and continues daily 1-6pm (except Mondays) until October 26th. Admission free.