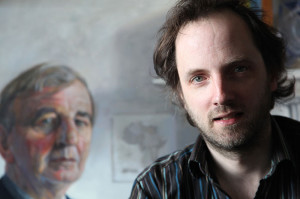 I recently visited Dun Laoghaire artist Oisin Roche in his studio.  He had just opened an exhibition of fine art in Oliveto at the Kingston hotel.  Since graduating from the Dun Laoghaire College of Art and Design (now IADT) he has been painting professionally for over 20 years.  He specialises in portraiture, streetscapes and still life.  Some of the more avant garde artist's that he would like to emulate are the Viennese Expressionists and in particular Oskar Kokoschak, Emil Nolde and Egon Schiele.
His work has incredible preciseness and attention to detail. You can see that in his streetscapes around Dun Laoghaire and the centre of Dublin.  It is also evident in his portraits. For example his portrait of the journalist John Waters took 20 sittings over six months. One of Niall Andrews TD took 10 sittings over three months.  Fine art is drawn from deep within.  It's exhausting, draining.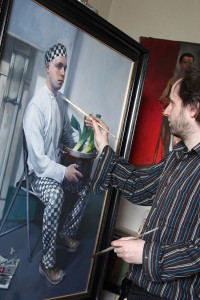 There is another side to Oisins artistic life. He is a fan of the graphic novel – an art form he believes is in its infancy in Ireland. His hero is Jean Giraud (Moebius). He has done a lot of illustration work in collaboration with an author in France where the graphic novel is much more developed.
This brought up the whole debate of fine art vs illustration.  Oisin's definition: An illustration is a picture with a story; a painting is all about the paint and form. Looking at some of the illustrations he has done for graphic novels I'm not sure if it's that straightforward.  Some of these could be framed and hung in an exhibition.
Oisin loves the freedom of working in this genre.  There are no demands.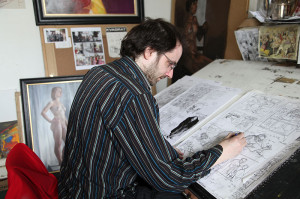 He has spent the last several months working on a graphic novel based on the work of an Irish author.  He reckons this could take a year to complete.  I look forward to seeing what he produces.
You can find more information on Oisin Roche and his work on his website (www.oisinroche.com).
Liam Madden,
Irish Art News.