Husband and wife team Susanna Lambeck and Colm Sweeney opened Galway Art School in January 2012. Situated in Annaghdown, the school is just a fifteen minute drive from Galway city, making it easily accessible to art lovers from both the city and the surrounding countryside. Their mission is to "Build confidence with our fun art classes."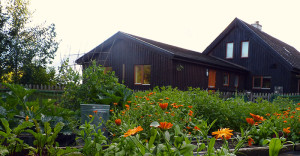 They are also passionate about building in an environmentally-friendly manner. Their home is a low-energy wooden house and the art school is a recent extension. The studio is extremely comfortable on the cold winter nights, thanks to the excellent insulation. The couple love wood and have planted hundreds of trees around the site over the years, creating beautiful scenery around their home and workplace. It was also important to Susanna and Colm to source as much of the building materials from as close by as possible. The structural timber was supplied by the local sawmill, while the exterior red cedar cladding came from County Leitrim. The cedar is treated with linseed oil, stained with a rich brown natural pigment.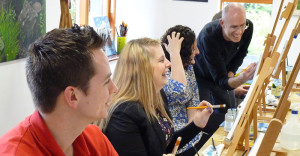 Colm currently runs the adult classes, teaching acrylic and oil painting, focusing on the Irish landscape and west of Ireland seascapes. "We are so lucky to live in the west of Ireland, just five minutes from Lough Corrib and a short spin to the wilds of Connemara. We're never stuck for inspiration for our paintings". Colm welcomes students with all levels of experience, but especially loves the feel-good factor of teaching complete beginners. "A lot of people approach me and tell me that they don't think they'll be any good. I really enjoy proving them wrong and it is extremely satisfying to see this turn around over the course, and soon they're asking me advice about framing before the paint has dried. I like to keep things simple and dispel the notion that painting is reserved for experts. It's true some may find it easier than others, but I believe and witness that when you love something, and are prepared to do a bit of work, you can make great progress with some simply learned techniques."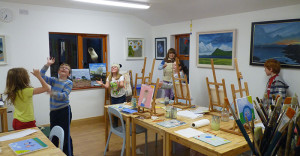 Susanna is teaching the kid's class at the moment, and she loves it. She currently caters for a group of 8-12 year olds, covering a wide range of media including drawing, printmaking, painting, textiles and sculpture. She loves the playful and imaginative way the kids approach the projects. Susanna especially loves to work in pastel and watercolour. As well as being an artist and teacher, Susanna has worked for over twenty years as a psychotherapist and through her experience she recognises the positive mental health benefits of having a creative outlet. She sees that being engaged with a pursuit like painting or any creative outlet is an excellent resource for building confidence. Some kids can be introverted and shy, and learning self expression through art really helps a child to find and celebrate their own unique and precious voice. Being engaged with art can also provide an excellent way of navigating through the difficult twists and turns of life. The skills that children learn in the art classes, such as planning, using imagination and problem-solving are invaluable life skills. Art also creates meaning in a child's, and indeed in an adult's life. The main focus in the class is fun and there's a break at halftime for games inside or out on the lawn if the weather permits. The games are usually based on the theme of the current art project. During the recent Monastery and round tower sculpture project, the kids enjoyed playing a Vikings versus monks chasing game!
As well as their regular classes, Colm and Susanna enjoy working with community groups and have run classes with the Headford Men's shed and the Headford 'Seancairde' group for senior citizens. They also run weekend workshops in the summer and cater for all manner of parties, such as birthdays, hen parties etc.
For more information you can check them out at www.galwayartschool.com or www.facebook.com/Galwayartschool.