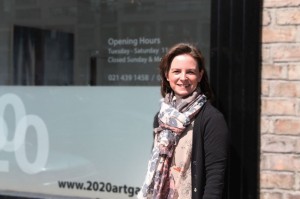 When talking to those involved in the arts I am often struck by the phrase "art is life, life is art".  I think this especially applies to Sheelah Moloney who runs the 2020 Gallery in Cork.  Art is her life.  She works full time in the gallery five days a week (Tuesday – Saturday) and the other two days she works on other aspects of the business.  It's a while since she's had a holiday.
Sheelah opened The Twenty Twenty Gallery in Ballydehob in West Cork  in July 2009.  She soon came to realise that she needed a bigger and more accessible venue so decided to move the gallery up to Cork City in order to expand the business. Her 200km round trip from Cork City to  Ballydehob was also wearing.
The Twenty Twenty Gallery opened in 2010 on the North Mall  in a location just over the bridge from North Main Street.  It is a very active gallery with many exhibitions and events.  Her first exhibition was a group show in December 2010 which was very encouraging.  The gallery features emerging artists as well as more established ones.  She has fostered connections with the Crawford College of Art & Design and is keen to encourage new talent.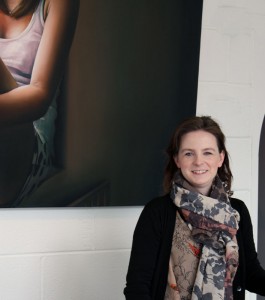 She regards Cork as a "great art city".  The Glucksman and Crawford galleries epitomise this. There's always something happening.  She particularly enjoys Culture Night which takes place each September.
Sheelah went to UCC in 2003 where she did a degree in art history with sociology.  She worked in art galleries and this led her on to running her own.
Her advice to art buyers is to buy what you truly want and truly love.  If you are considering buying a piece of art step away.  If it is still in your head then you know.
Sheelah has embraced social media as a way of promoting her business.  She's especially active on Twitter and uses Pinterest to feature art and events in the gallery.
For more about Sheelah and Twenty Twenty Art Gallery have a look at 2020artgallery.com.