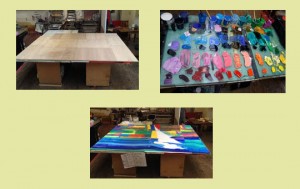 A cross section of seven secondary schools from the  Belfast area, students from The University of Ulster and Belfast Metropolitan College have been given large pieces of lino to work on for the past couple of weeks. Using the traditional relief print technique, lino cutting they have produced original artworks that will be inked up and printed live outdoors from 8pm onwards in Cotton Court, Waring Street.  This is no ordinary printing method, as the lino sections are so large a HSS road roller will have to be used to print these unique original prints.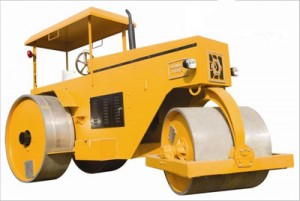 Twenty one large sections of lino in total will be printed live outdoors on the night, something which has never been attempted in Northern Ireland. This collaborative and all inclusive event should prove to be full of anticipation and excitement for all involved printers and spectators.
During the day from lunchtime onwards the public are invited to make their individual marks on the remaining two sections of lino with the members of Belfast Print Workshop. They can return later in the evening to watch the unveiling of the finished prints.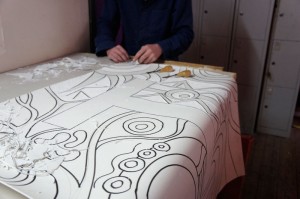 There will also be tours of the workshop and Gallery viewings taking place during the day for the public to enjoy.