Niall O'Loughlin must be one of Ireland's hardest working artists.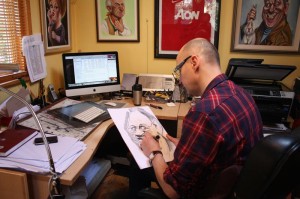 He is best known for his caricatures of celebrities.   He works at corporate events and weddings where he spends two to three hours drawing caricatures of the guests.  He does two weddings per week and is booked up for the next six months. He is also kept busy doing wedding boards, wedding presents and invitations.  Niall also accepts commissions.
I met him in his studio in Dunboyne, County Meath.
Before becoming a full time artist, Niall worked in animation for 12 years. He worked on ten of the twelve "Give up Yer Aul Sins" videos.
Niall admits to being a great self promoter and does all his own marketing.  He certainly is good at getting his name out there.  When I met him he was preparing to go on the Saturday Night Show on RTE.  This wasn't the first time he was on TV.  On the show he unveiled a number of paintings including a caricature of the show's host, Brendan O'Connor. Niall also has a very active Facebook presence.
Niall's approach to portraits is what he calls "painting from the inside out". Instead of taking a facial feature and exaggerating it Niall has a way of capturing an aspect of the subject's character – looking at what's on the inside and expressing that through his portraits.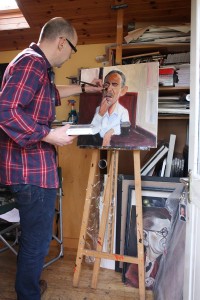 Niall has a wicked sense of humour.  You can see some evidence of this in the cartoons he does in the Sun newspaper on Sundays and Mondays.
Although widely acknowledged as the best caricature artist in the country, his real passion is for painting.  You can find some of his paintings in Balla Ban Gallery just off Grafton Street in Dublin.
Niall's other big interest is in soccer. He's a Manchester United fan.  I noticed a Man U shirt signed by Wayne Rooney on his wall. He not only watches football. To keep fit he plays 5-a-side soccer twice a week.
Niall also has a wife and 4 kids to keep him occupied.
Before I left I asked him to do a caricature of me.  This is what he produced.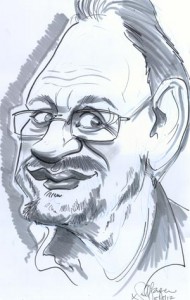 For more information on Niall and his work have a look at www.nialloloughlin.com.