I recently visited Padraig McCaul in his studio in County Wicklow.  The studio is down a country lane in the loft of a converted farm outhouse that he shares with artist Denise Hussey.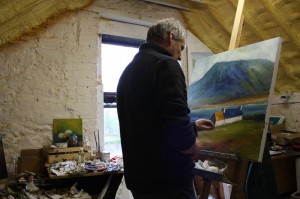 Unlike most other artists that I know, Padraig embraces the business side of his art career.  A lot of artists just want to paint or sculpt.  Marketing, sales and finances are seen as a necessary evil – something they'd prefer someone else looked after. He mentors other artists one to one in this area. He also runs a business and marketing seminar "Building a Business from your Art".  He set up the website An Artist's Business Guide with tips for artists on earning a living from their work.
Padraig is very aware of the importance of self promotion.  He maintains his profile with his blogs, website, social media, exhibitions, gallery presence, artist talks and interviews. He has found social media (in particular Pinterest) a good way of gauging the interest in particular paintings. He is also very aware of the relationship between an artist and the art buyer.  Whether done directly with the artist or through a gallery, a person buying art is not just buying a painting but "buying into" the artist.  Padraig likes to maintain the connection with his buyers.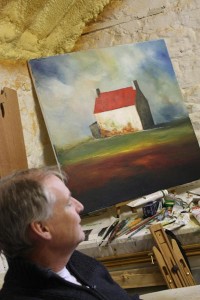 Padraig has been painting for ten years, full time for six.  His paintings are mostly influenced by the landscapes of the West of Ireland, particularly Achill.
Before becoming a full time artist Padraig was in software development.  His arts degree from Maynooth was in music and philosophy.  He plays piano and saxophone with The Harvest Ministers.  I'm listening to him play on Will Merriman's CD "The Light of Which I Speak" as I type this.  Padraig did the artwork for the CD.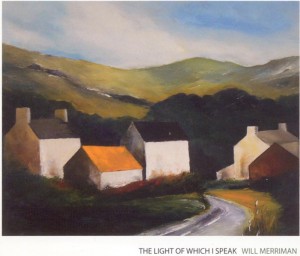 Padraig keeps himself busy.  He has a number of exhibitions in 2012: Dalkey in April, Dungarvan in May, Wexford Opera Festival in October, Art Fair in the RDS in November.  He is also running art workshops in Achill between May and August.  He exhibited in London through the Doorway Gallery earlier in the year.
For more information on Padraig and his work have a look at www.padraigmccaul.com and www.anartistsbusinessguide.com.
Liam Madden,
Irish Art News.