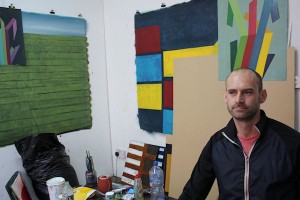 Last week I met up with Dublin artist John Fitzsimons in Caffe Noto, Thomas Street for a chat about his life, work, art and his upcoming exhibition.
John grew up in Terenure.  He likes living in the city. I get the impression he would not want to live anywhere else.  Unlike with some artists the idea of living in a cottage in Connemara or West Cork did not get an enthusiastic response – quite the opposite.  I've an idea that perhaps the city with its man-made environment and straight lines has influenced his work.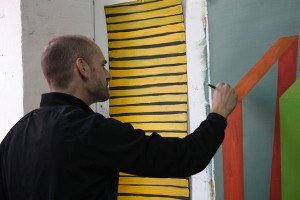 John graduated from DLIADT (Dun Laoghaire Institute of Art, Design and Technology ) with a diploma in fine art printmaking in 1995 and joined Graphic Studio as a printmaker.  He did editioning work for the likes of John Graham and Cliona Doyle.  With the number and variety of artists there, John found the atmosphere stimulating and invigorating. Through his current job at Stoney Road Press, where he editions art, John has also worked with artists such as Charles Tyrrell, Donald Teskey, Dorothy Cross, Patrick Scott and Brian O'Doherty.
In parallel with his printmaking, John kept "notebooks" of art in gouache and acrylics.  This formed the basis of his art career.  He returned to DLIADT to complete a degree in fine art in 2000.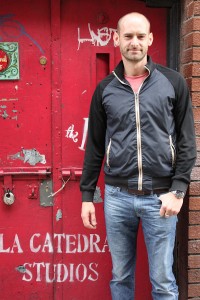 Art is Johns life as you can sense from his schedule. He works two days a week in Stoney Road Press, two days a week teaching art for the VEC in Lucan. He also has his studio in La Catedral Studios not far from where he lives.  Talking to John I get the sense that he knows where he is and where he's going.  He is "locked into the process".  When it comes to his work John's sense is: "only I can do it".
When I met him, John was finishing preparations for his first solo exhibition. The exhibition entitled 'Conversion' opens on October 27th in Filmbase, Temple Bar and continues until November 10th.  I'm looking forward to seeing the exhibition and what direction John's career heads.
John is represented by Olivier Cornet (Olliart) – www.olliart.com.
Liam Madden,
Irish Art News.