Two sides of things' is the title of a solo exhibition of oil paintings by Czech artist Lucie Pacovska which took place recently at Balla Bán Art Gallery, Westbury Mall, Dublin.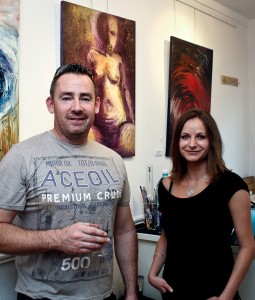 Lucie's paintings offer alternate views of portraying an individual.  Her show includes a selection of her latest oil paintings fittingly entitled the 'Green series' as well as some of her previous artworks. Lucie studied Art and Design in Prague, but she learned how to use oil colors later, after arriving to Dublin, where she is fully focused for her passion, painting.
For further information contact Frank at the Balla Ban Gallery.