If you are a visual artist, what does it mean to be from the Gaeltacht or to have a connection with it?  Can you express this connection through your art? Does a "sense" of the Gaeltacht influence or inform contemporary visual art practices?
These are the questions being posed by Donegal Gaeltacht gallery, An Gailearaí. On 14th January, they will launch a new national visual arts competition in Dublin, and they are inviting visual artists from across the island to submit their responses to these questions.   First prize is €5,000, runners up €1,000.
The notion of a Gaeltacht sensibility is well explored in literature, song, dance, poetry, drama, and film but this has not really been done within the visual arts, say An Gailearaí directors Una Campbell and Celine Haran.
"In the past certain opportunities were only open to artists living within the Gaeltacht," says Haran, "but this competition is open to any artist anywhere on the island."  Entries close on 25th February. For details see www.angailearai.com.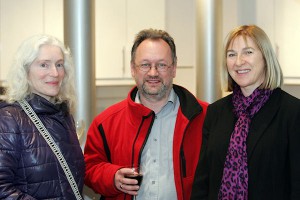 The competition is being supported by wide range of artists including sean-nós specialist Lillis O Laoire, poet Gabriel Rosenstock and Cork visual artist Bernadette Cotter as well as top Irish performance artist Amanda Coogan, Paraic Breathnach of the Galway Arts Centre, TG4's Aoife Ni Thuairisc, and actors Tara Breathnach and Alan Stanford.