Following on from the success of this inaugural quirky project in 2008, Black Church Print Studio brings art onto the street again this year from 23 July to 16 September with the Curiosity Cabinet Student Competition exhibition at 4 Temple Bar.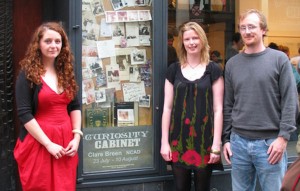 Earlier this year, third-level fine-art students from across the country were invited to submit proposals for an artwork, designed specifically to be displayed in the Curiosity Cabinet. The Curiosity Cabinet is an alternative exhibition 'venue', it is essentially a display box, on a busy pedestrian thoroughfare, located beside the entrance to the Black Church Print Studio, at 4 Temple Bar. This is a great opportunity for Students to showcase their work to a wide audience.
Three successful artists including 2 NCAD students: Clare Breen and Thomas Lawton and IADT Student: Lynda Reynolds are the 2009 winners of this competition. Each winner will has the opportunity to use the studio facilities for a month to work on their project after which, each is given a 2.5 weeks exhibition slot in the Curiosity Cabinet. All three winners received a prize bursary of €250 at the reception launch on the 23rd July in the Original Print Gallery.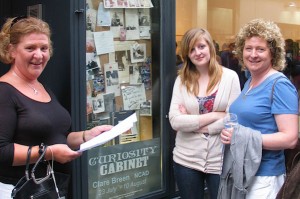 The dates for each artist are as follows: Clare Breen (23 Jul – 10 Aug), Thomas Lawton (11-27 Aug) and Lynda Reynolds (28 Aug – 16 Sep).