The exhibition Folka Polka was officially opened last weekend by The Swedish Ambassador Claes Ljundahl at thisisnotashop gallery.
This group exhibition sponsored by Swedish Women's Education Association (SWEA) brings together the work of Swedish artists Helene Hortlund (Stockholm) and Veronica Forsgren (Dublin). The exhibition draws on the heritage of Swedish Folk Art in an exploration of the innate human need to decorate and beautify our close surroundings.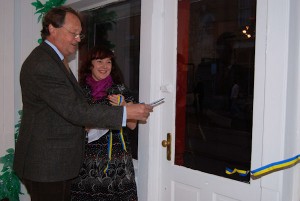 The Exhibition continues until November 30th.