August Bank Holiday saw over 100 artists painting out in Wexford Town for 'Art in the Open 2008,' a 3-day plein air painting festival.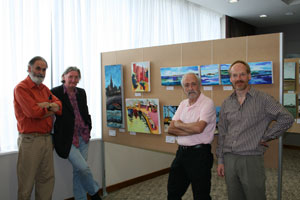 Sponsored prizes worth over €4000, a civic reception, craic, sunshine and the chance to watch how others approach the urban and estuarial landscape of Wexford were the main attractions. Professional and amateur painters took part in this unusual event, culminating in a mammoth 'wet' exhibition in White's Hotel on the Monday and Tuesday 4th and 5th August.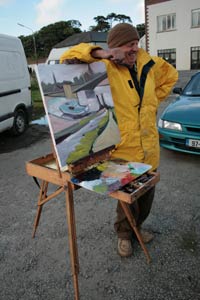 Visitors to the show had the opportunity to disagree with adjudicators. Jim Doolan, Paddy Lennon and Bob Lynn by voting for their own favourite painting, the 'People's Choice'. Overall winner of the Mayoral Award, was Tramore artist, Sarah Richards. Other award-winners were Jock Nichol (Birr), David Nolan (Dublin), Paul O'Kane (Belfast), Frank Sanford (Kinvara), and Judy Shinnick (Ardmore). People's Choice winners were, Jacinta Crowley-Long, Nicola Kennedy and Margaret Kent, whose prizes are Winsor & Newton artists' materials. A scaled-down version of the show continues at the Pigyard Gallery, Wexford.