100 + Artists Studios
All Day Free Public Event:
Saturday 30 September 2006
For the first time in Dublin, over one hundred artists will open their studio doors to the public on Saturday 30 September 2006. Seven of the city's largest artists' studio groups will take part in VISIT, a unique addition to Dublin's cultural calendar. VISIT affords the public a rare opportunity to view the many different creative spaces across the city of Dublin, all within one day. The purpose of the event is to provide insight into the spaces where art is made, to view new work and to meet the artist 'in situ'. Visitors will be able to engage with artists and their work on both a professional and curious level.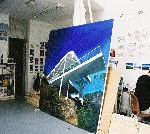 VISIT is an initiative by the different artists' studios organisations in Dublin and aims to promote visual arts to a wider audience. The collaboration features a range of organisations, from the independent artist-run spaces to some of the more established institutions. Groups and organisations represented include: Broadstone Studios, Brunswick Mill Studio Complex, Dublin City Council: The Red Stables, Fire Station Artists' Studios, Irish Museum of Modern Art (IMMA's) Artists' Residency Programme, Pallas Heights and Studios and Temple Bar Gallery and Studios.
For more details see www.visitstudios.com.